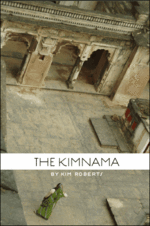 The Kimnama is a masala of history, culture, and personal transformation.  Scene4 Magazine calls it "…a Whitmanesque long poem…[that] makes the reader viscerally smell, hear, touch and see the streets, mosques, gods, vehicles, shopping malls and slums of New Delhi…"
Book Reviews
From The Montserrat Review by Ethan Fischer:
"Lapidary verses vary with brisk evocation of streets, shops, and voices. Roberts devotes her lean book to vast India not only from her vantage point as traveler but from the eyes, ears, and tongues of Indians; their timeless spirit shines despite imperial edicts or raids by sacred cows…Passages echo and resonate as lines twine around streets or recline on roofs or ride camels or eat spicy meals or greet children or trace a god's smile."
From The Alsop Review by Cheryl Snell:
"The language throughout is elegant and precise, and the short swinging lines reinforce the idea of passage, for me. Musical repetitions, the use of opposites, and the theme of connection, recall Whitman–especially 'Crossing Brooklyn Ferry' or 'Prayer to Columbus.'"
Book Excerpt
A fruit market on spindly wooden stand
is built by the side of the road.
Next to the melons,
a barber lifts his knife,
his client's face
full of white lather.
A clump of laughing women
in a rainbow of saris
crosses the street.
Japanese Maruti vans honk
past ancient Ambassador cabs
built like tanks.
A man clad in a bright pink turban
and an orange scarf
around his neck smiles without teeth.
The market vendor deposits
red onion skins in the gutter
and three cows gather,
push their noses deep in rich reddish-purple,
stopping traffic,
as if they knew they were gods.